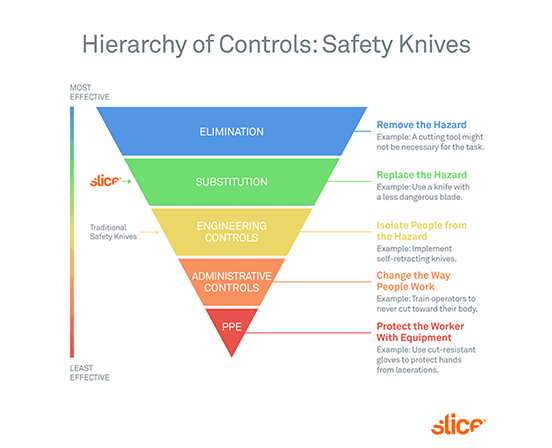 How Slice Knives Work
Unlike other safety knives, we substituted the hazard of any knife – its blade – with a safer option: our finger-friendly® blade.

Slice blades significantly reduce the consequences of an accident with a safety knife.
Proprietary finger-friendly blade technology makes Slice a unique option for reducing lacerations at your workplace.
For Every Industry and Application
With over 50 tools and over 20 types of blades, Slice can help you address the laceration hazard of any industry in any application
For Warehouse/Shipping & Receiving

From opening boxes to cutting shrink wrap and banding, Slice has solutions for all kinds of packaging.

Browse Tools

For Construction

Scoring drywall? Cutting heavy-duty banding? Stripping wire insulation? Opening cement sacks? Slice has solutions for all sorts of construction work.

Browse Tools

For Laboratories

Need precision cutting tools that are safer than extremely dangerous traditional precision knives? From cutting out labels to precision cutting of plants or wires, Slice will make cutting in a lab a safer experience.

Browse Tools
"Since implementing the Slice cutters, we have not had a cutting incident with any employee. We have 100% reduced lacerations in our facility."
- Teresa Milhelm, EHS manager at Hollingsworth